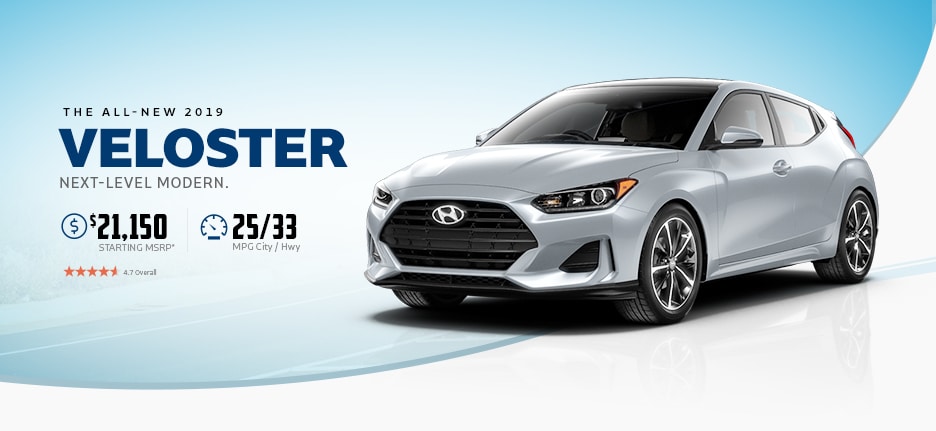 2019 Hyundai Veloster For Sale in Leominster MA
At Rte 2 Hyundai in Leominster, MA, we're proud to carry the Veloster. This sleek, unique car looks and feels sporty. Not only is it fun to drive, but it's also reliable and quite capable of handling itself on the roads around Massachusetts or wherever your travels take you.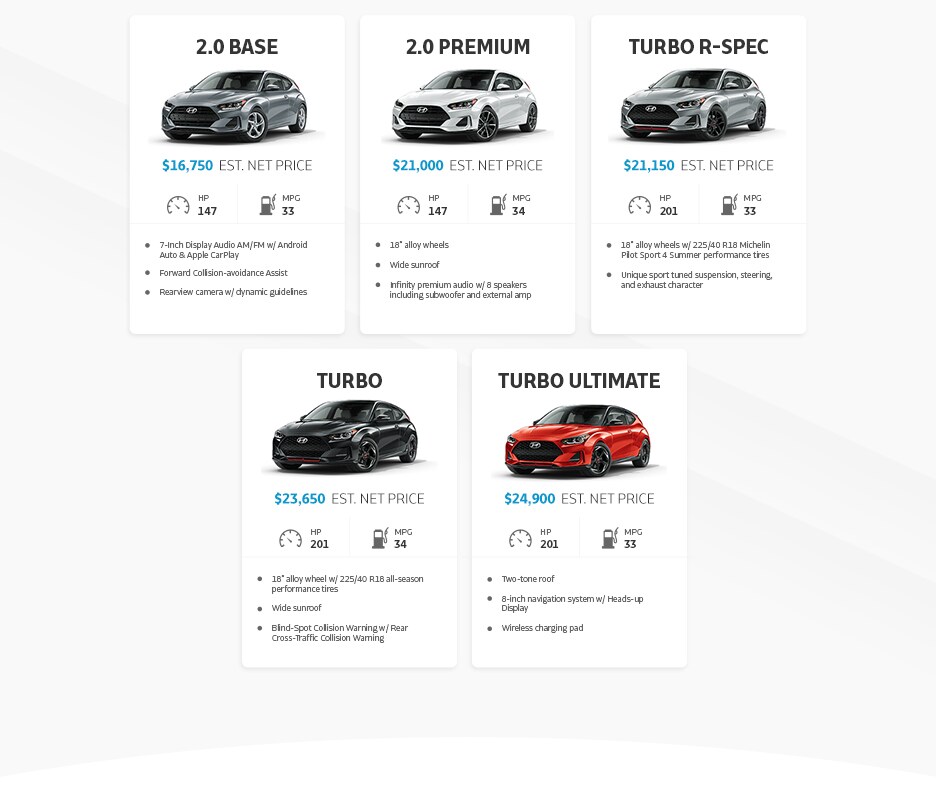 HYUNDAI VELOSTER HIGHLIGHTS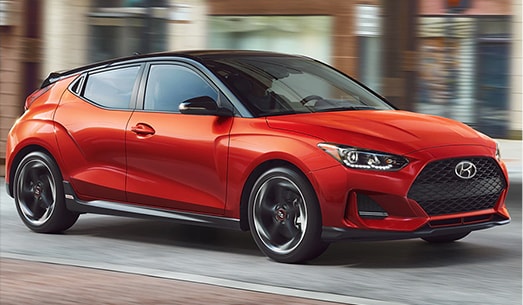 EXTERIOR
The Hyundai Veloster sits low to the ground and has a bold, aggressive appearance. If you're driving one around Massachusetts, you'll be turning heads as people take a good look at your car. Almost all of the trims include 18" wheels, and a wide sunroof is available on many of them. The hatchback design has both form and function, as it helps add to the muscular feel of the car while allowing for valuable cargo space. The three-door lay-out helps set the Veloster apart from other hatchbacks on the market, and you can even make more of an impression by opting for a two-tone roof.

PERFORMANCE
Two different engines are available on the Veloster. The 2.0 Base and 2.0 Premium trims utilize a 2.0-liter, four-cylinder engine that can output 147 horsepower. These models can achieve up to an estimated 34 miles per gallon when you open things up on the highways around Leominster. The Turbo R-Spec, Turbo, and Turbo Ultimate use an upgraded engine. Their 1.6-liter, four-cylinder turbo engine can generate a more impressive 201 horsepower. This would be a consideration if you're someone who prioritizes performance.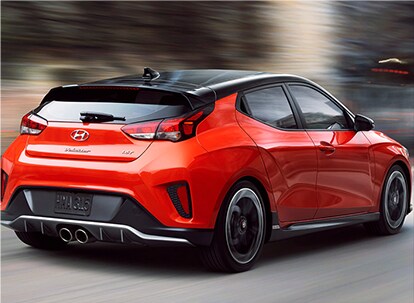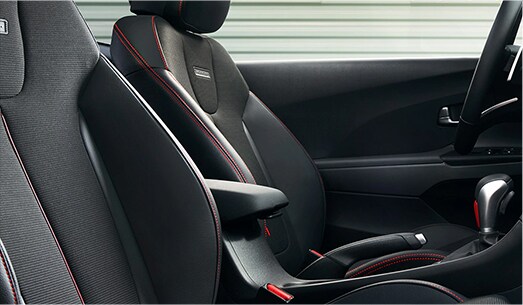 INTERIOR
The front row of the hatchback feels roomy, with 42.6 inches of leg room in front. Adult passengers in the second row can stay comfortable as well, as there are 34.1 inches of leg room in the back. When those back seats are lowered, cargo volume expands from 19.9 cubic feet to 44.5 cubic feet. This is a big draw to driving a car with this type of build. Depending on what model you select, you'll either get premium cloth, cloth inserts with leather bolsters, or leather seating surfaces. Front seats are heated in the 2.0 Premium, Turbo, and Turbo Ultimate trims. The driver seat is adjustable in six different ways, and the front passenger seat can also slide and recline.

TECHNOLOGY
A big advantage of getting this Hyundai vehicle is being able to take advantage of its technology package. Apple CarPlay and Android Auto are standard with all trims, letting drivers and their passengers stay connected and informed at all times. In the 2.0, drivers can use a seven-inch color touchscreen. This is upgraded to an eight-inch touchscreen in the other trims, with the Turbo Ultimate coming with built-in navigation. All of the trims, with the exception of the base model, are built with an Infinity.
Premium Audio System, have SiriusX Satellite Radio capability, and include voice recognition as part of the Bluetooth system. The 2.0 trim does use Bluetooth, making it easier for hooking up smartphones. In addition, the Veloster 2.0 comes with a 3.5" instrument cluster that shows vehicle data while the other trims have a larger, 4.2" instrument cluster.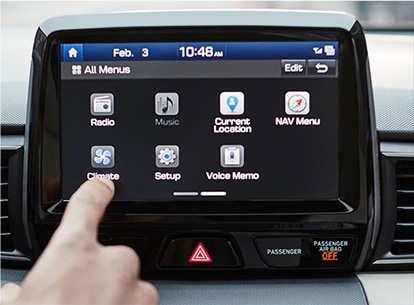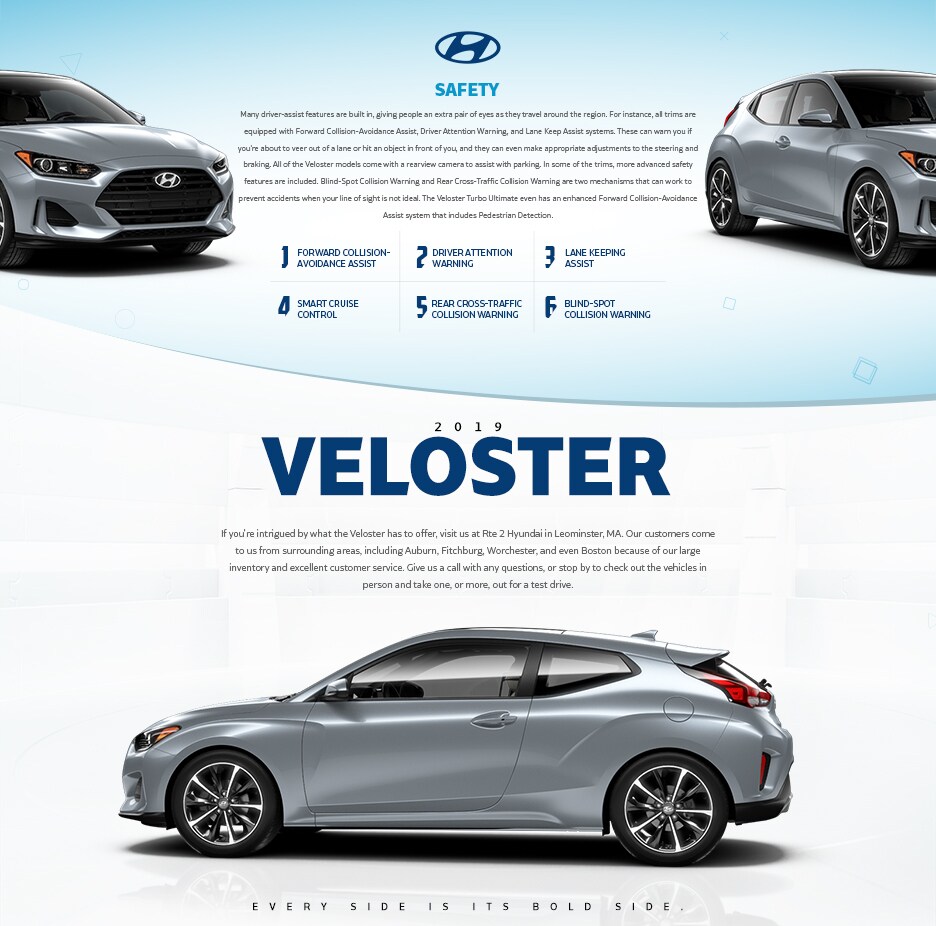 Leominster's Top Rated Hyundai Veloster Dealer
Route 2 Hyundai is located on 743 N Main St, Leominster. From Worcester Regional Airport (ORH) head south on Airport Dr and turn left onto Goddard Memorial Dr. Then continue onto Airport Dr and turn left onto Mill St. Next, turn right onto Pleasant St and turn left onto Flagg St. After that turn left to stay on Flagg St and turn right onto Salisbury St. At this point turn left onto Monadnock Rd and turn right onto Sagamore Rd. Turn left onto MA-12 N/Park Ave and continue to follow MA-12 N. Head straight for 1.2mi and use the left lane to turn slightly left (signs for I-190 N/Leominster/Fitchburg). Then use the left lane to merge onto I-190 N via the ramp to Leominster/Fitchburg and merge onto I-190 N. Next, merge onto MA-2 W and take exit 31B to merge onto MA-12 N/N Main St toward Fitchburg. Finally, merge onto MA-12 N/N Main St and turn right. Turn right again and Route 2 Hyundai will be on your left. We are open Monday - Thursday 9am - 8pm, Friday - Saturday 9am - 6pm, Sunday 11am - 5pm. For additional questions you can call us at 888-439-1986 or you can find us on Yelp and Dealerrataed.