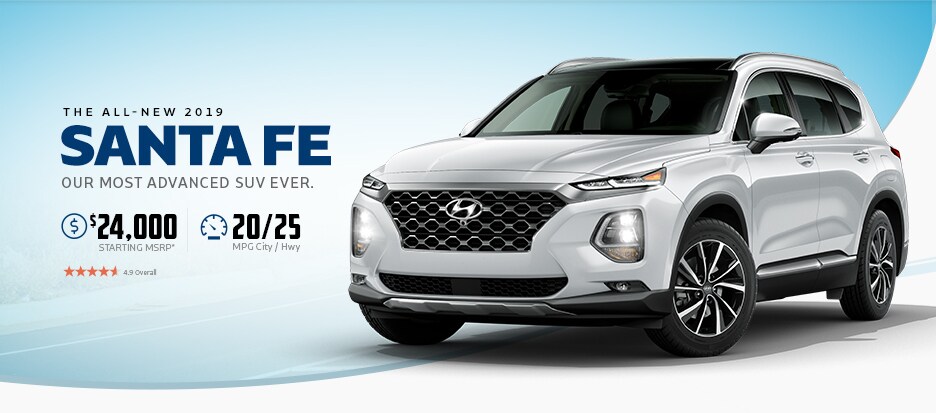 2019 Hyundai Santa Fe For Sale in Leominster MA
Though you may have been right in the past if you associated the Hyundai Santa Fe with utter luxury, you'd certainly be wrong today. The 2019 Santa Fe is now legitimately competing with other luxury models of the same technology, safety, features and style for an actual fraction of the cost. Like, for example, the Santa Fe comes optionable as a full convertible (that's right: a top-down cabriolet), and has seating for 7 fully grown adults, quilted leather stitching, the latest smartphone, wireless and remoteless technologies, a heads-up windshield speedometer, 360-degree parking cameras and has won a ton of awards compared to other models in its class. Its looks are comparable to much more expensive midsize luxury SUVs and yet still have even cooler features. Whether you live near Leominster, MA or not, the features of this SUV are completely out of this world and worth exploring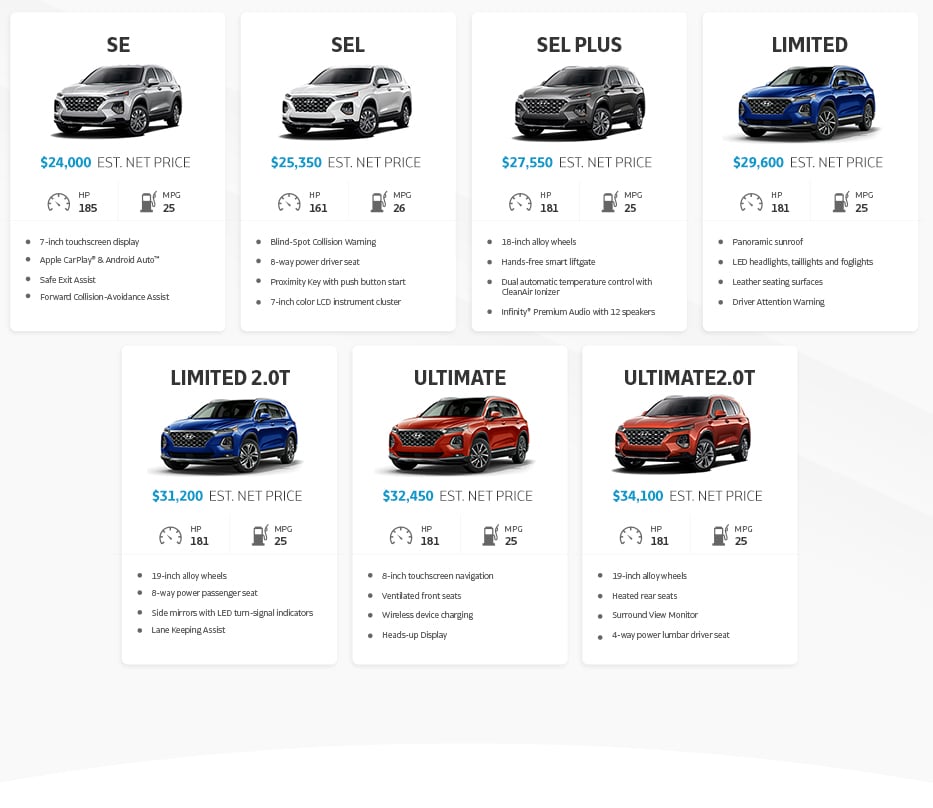 HYUNDAI SANTA FE HIGHLIGTHS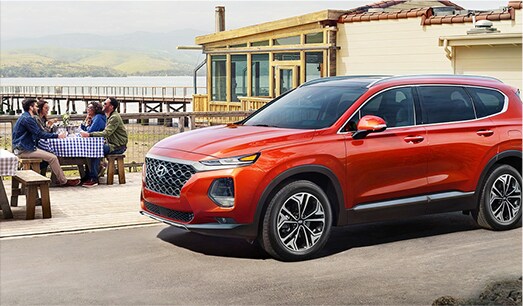 EXTERIOR
The exterior of the 2019 Hyundai Santa Fe is luxurious from start to finish, with the front end boasting an aggressive mesh chrome grill, narrow-slit LED lighting and arrow-straight hood lines which evoke a friendlier and more beefed-up version of the Jaguar F Pace. The rear and sides have unique curves and modern edges which reflect a sporty yet rugged attitude. 

PERFORMANCE
This 2019 Hyundai boasts a 2.4L V4 engine that gets an impressive 29mpg highway on an all-wheel-drive "HTRAC" system which makes it capable of handling every weather condition; improved handling and traction are standard.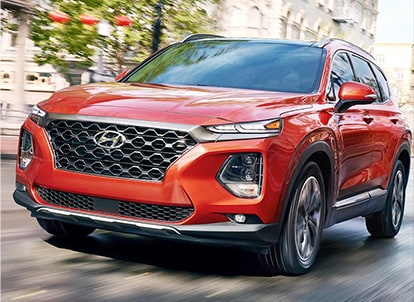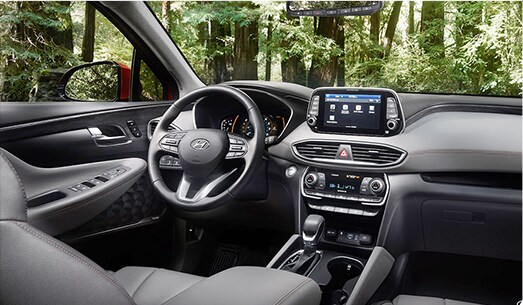 INTERIOR
Comfortably seating 7, the Santa Fe looks and feels like home with its whopping 146.6 cubic feet. It has memory seats and mirrors for switching between drivers not available to Chevy Equinox and Dodge Journey owners. Leather heated and ventilated seats, a sunroof, and power-driven seats with lumbar and cushion extension are all very enticing reasons to get a feel for the new Hyundai. 

TECHNOLOGY
Apple CarPlay and Android Auto, 360-degree cameras, wireless phone charging, in-dash speedometer, stolen vehicle recovery, premium Infinity audio surround sound, push-down button 60/40 split seating control, destination searchable navigation and voice-activated door locking and engine starting with climate control from your smartphone are all just some of the completely out-of-this-world reasons why the 2019 Santa Fe is like no SUV ever seen before. 
Servicing the greater Boston, Massachusetts area including Leominster, Worchester, Fitchburg, and Auburn MA the Route 2 Hyundai dealership is the largest in all of Massachusetts and even all of New England. Route 2 of Leominster, MA is proud to offer one of the most versatile, jaw-dropping SUVs ever made: the 2019 Hyundai Santa Fe. The Santa Fe has a 5-year / 40,000 mile warranty that is more than the Ford Edge, Nissan Murano, or GMC Terrain, and starts at just $25,000 while many luxury SUVs with the same features are well-equipped at closer to $70,000.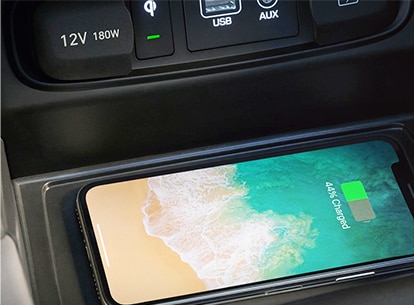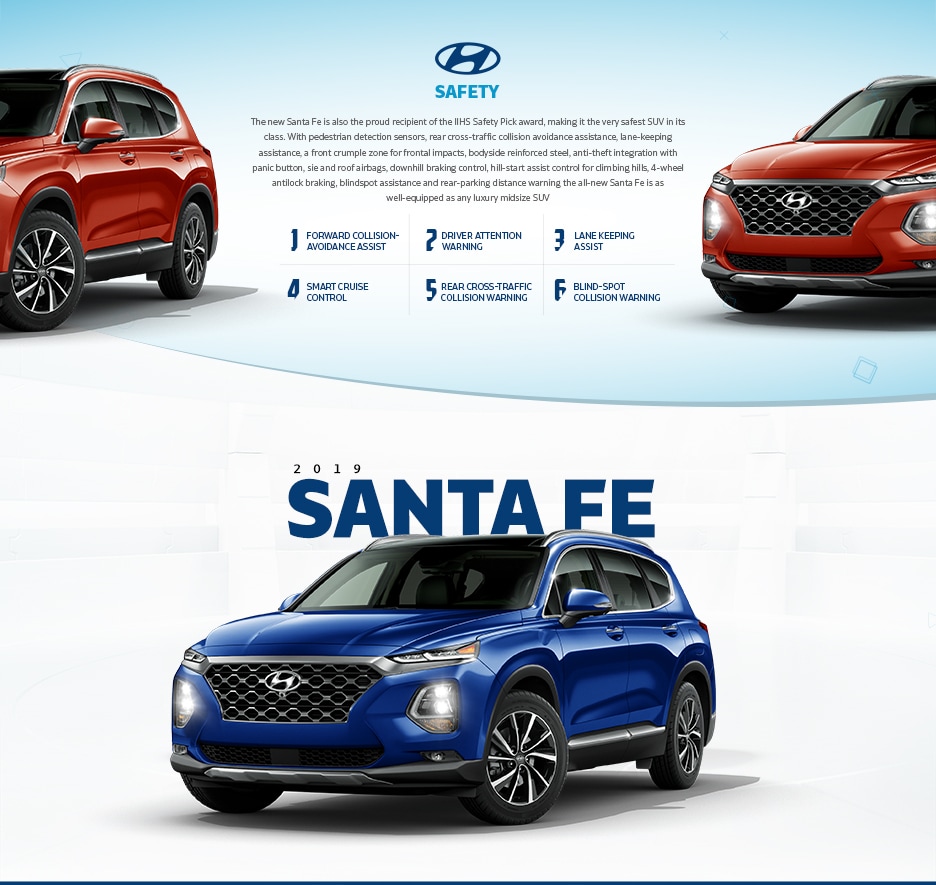 Leominster's Top Rated Hyundai Santa Fe Dealer
Route 2 Hyundai is located on 743 N Main St, Leominster. From Worcester Regional Airport (ORH) head south on Airport Dr and turn left onto Goddard Memorial Dr. Then continue onto Airport Dr and turn left onto Mill St. Next, turn right onto Pleasant St and turn left onto Flagg St. After that turn left to stay on Flagg St and turn right onto Salisbury St. At this point turn left onto Monadnock Rd and turn right onto Sagamore Rd. Turn left onto MA-12 N/Park Ave and continue to follow MA-12 N. Head straight for 1.2mi and use the left lane to turn slightly left (signs for I-190 N/Leominster/Fitchburg). Then use the left lane to merge onto I-190 N via the ramp to Leominster/Fitchburg and merge onto I-190 N. Next, merge onto MA-2 W and take exit 31B to merge onto MA-12 N/N Main St toward Fitchburg. Finally, merge onto MA-12 N/N Main St and turn right. Turn right again and Route 2 Hyundai will be on your left. We are open Monday - Thursday 9am - 8pm, Friday - Saturday 9am - 6pm, Sunday 11am - 5pm. For additional questions you can call us at 888-439-1986 or you can find us on Yelp and Dealerrataed.