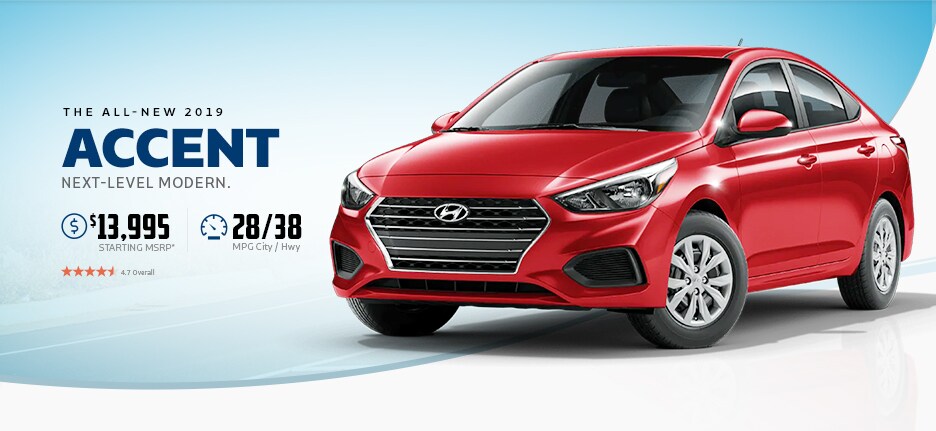 2019 Hyundai Accent For Sale in Leominster MA
Hyundai does a wonderful job every year with improving its total model lineup from top to bottom. This year, the 2019s continue what by now is expected. The Accent is hard, first-hand evidence of Hyundai's quality commitment. Route 2 Hyundai, at 743 North Main Street, here in Leominster, MA has a huge inventory, and the car professionals are standing by to help you with your new Hyundai Accent. For those of you who do not live in Leominster, we are roughly in the middle of Massachusetts. Boston is to the east, and Worchester is south.
Routes 2 and 12 pass through the northeast corner of our county. That makes us convenient to Auburn, Fitchburg, Worchester and Boston, er the Hub, as we call it. Speaking of Boston, we can free you from the T and do it in style. Come see us; you will be glad you did. Just take a look at the brief list of features below. We think you will agree this Accent is one nice car.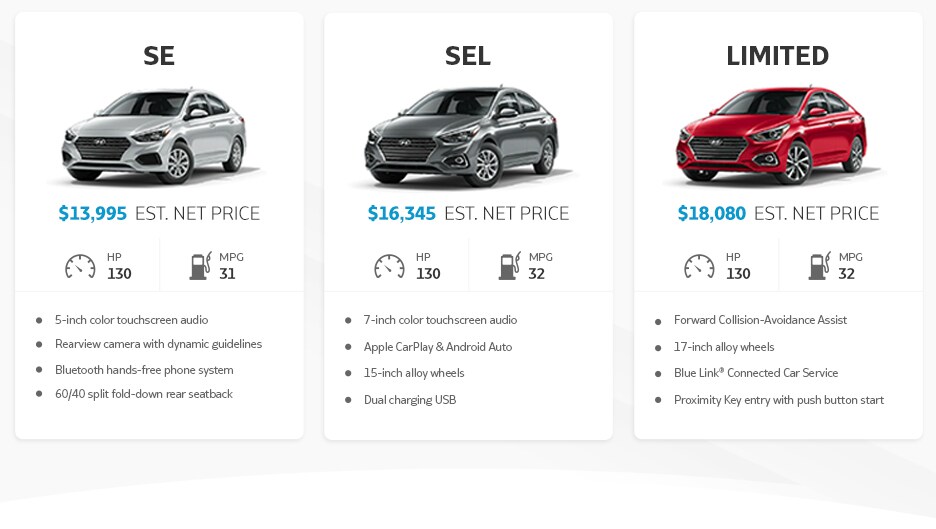 HYUNDAI ACCENT HIGHLIGTHS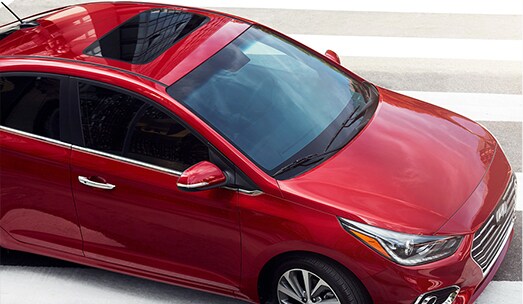 EXTERIOR
The front-on view of the Accent is impressive. The headlights seem to wrap around the corners. The hood is beveled at the sides, and the hood creases align neatly with the inside corners of the headlight assemblies. The hood also slopes in the front, and this gives the headlights a narrow, sporty appearance. The cabin is well-centered, and the rear doors align neatly with the rear roof posts. The rear of the vehicle has a clean, uncluttered look, and the tail lights, like the headlights, wrap around the rear corners.
The tires and wheels blend and match the overall appearance. To top it off, it is offered in three trim levels. These give the buyer plenty of choices for building the Accent they want.

PERFORMANCE
With three trims available, the options are too many to list here. We have provided only the performance features common to all three levels. All three have 16-valve, 4-cylinder engines. They have 130 horsepower at 6300 RPM with 119lb.-ft of torque at over 4800 RPM. This is a very favorable horsepower to torque ratio for this size engine. Each trim is a front-wheel drive setup, and depending upon the level you choose, there is a 6-speed manual or a 6-speed automatic with Shiftronic feature. Shiftronic senses and adjusts to the particular driving habits and style of the driver.
McPherson struts with coil springs and gas shocks give the Accent a steady feel on the road. A torsion axle with coil springs and shocks give the rear end better driver handling. This comes in handy when you feel the need to bang that uey for a frappe or take to the pike.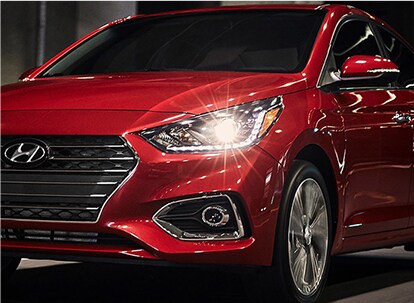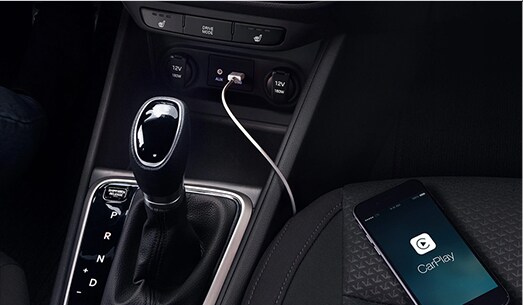 INTERIOR
The cabin interior is large for its category, and it has sufficient head, shoulder and leg room. It also has over 12 cubic feet of cargo room. The car also offers a quiet, smooth driving experience. The cloth seating is comfortable, and the driver seat is six-way adjustable. This places the driver at exactly the seating level for maximum field of view while driving.
Air conditioning and rear window defogger are also standard. Cruise control and accessory controls mounted in the steering wheel ease driver operation of the car. The interior has a dramatic two-tone finish that gives it an elegant appearance. Color matched door handles and arm rests blend in neatly and offer an eye-pleasing interior color contrast. Brushed aluminum finishes of the steering wheel and accessory package. The look gives an understated, tasteful and not gaudy interior appointment impression.

TECHNOLOGY
A 7-inch touch screen, Sirus XM radio with Android, Apple CarPlay and six speakers round out a substantial complement of the most current technology. Smartphone USB, MP3 input jacks and two USB charging outlets are all parts of Accent technology for 2019.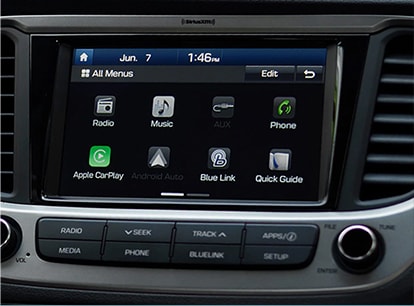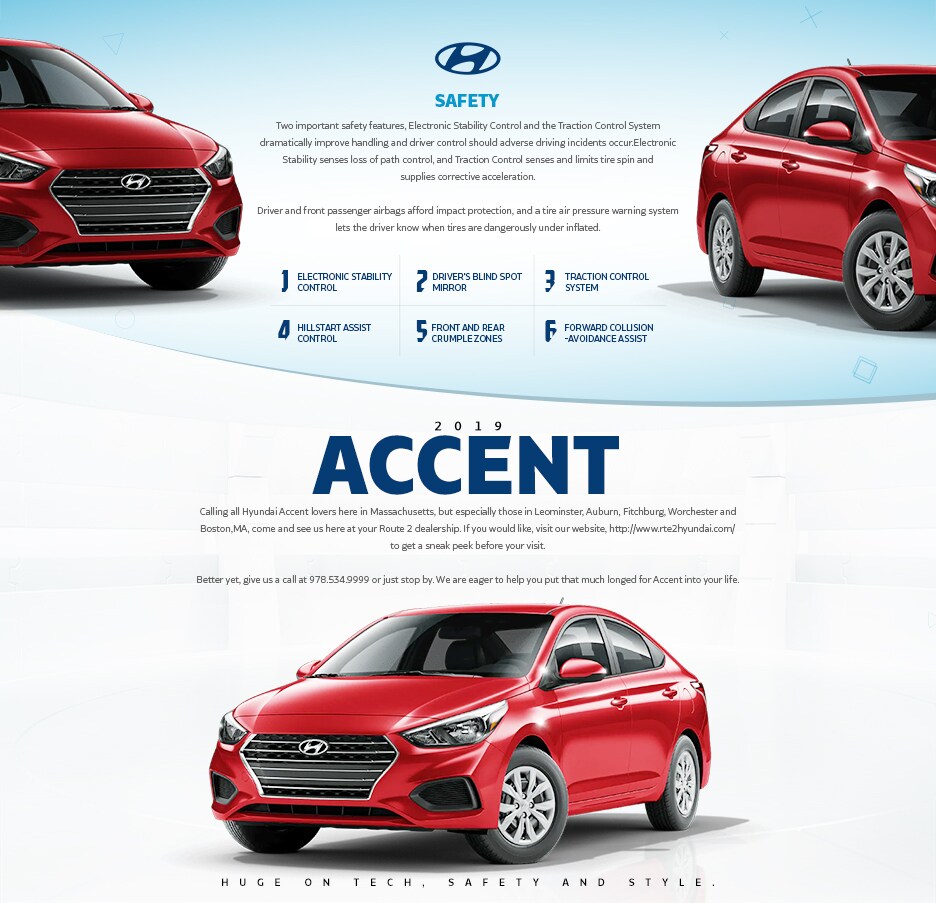 Leominster's Top Rated Hyundai Accent Dealer
Route 2 Hyundai is located on 743 N Main St, Leominster. From Worcester Regional Airport (ORH) head south on Airport Dr and turn left onto Goddard Memorial Dr. Then continue onto Airport Dr and turn left onto Mill St. Next, turn right onto Pleasant St and turn left onto Flagg St. After that turn left to stay on Flagg St and turn right onto Salisbury St. At this point turn left onto Monadnock Rd and turn right onto Sagamore Rd. Turn left onto MA-12 N/Park Ave and continue to follow MA-12 N. Head straight for 1.2mi and use the left lane to turn slightly left (signs for I-190 N/Leominster/Fitchburg). Then use the left lane to merge onto I-190 N via the ramp to Leominster/Fitchburg and merge onto I-190 N. Next, merge onto MA-2 W and take exit 31B to merge onto MA-12 N/N Main St toward Fitchburg. Finally, merge onto MA-12 N/N Main St and turn right. Turn right again and Route 2 Hyundai will be on your left. We are open Monday - Thursday 9am - 8pm, Friday - Saturday 9am - 6pm, Sunday 11am - 5pm. For additional questions you can call us at (978) 534-9999 or you can find us on Yelp and Dealerrataed.